Easy Walker FX EA Review
$349
Timeframe:

M15

PDF download:

Broker (link):

XM
We suggest to open real live account with the broker above, because the shown results come from them.
Easy Walker FX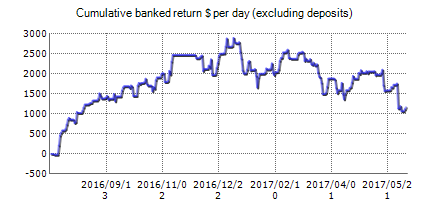 Recommended Forex Robot!
FXStabilizer EA Review – Forex Expert Advisor Earns Stable Profits FXStabilizer EA is an innovative FX Expert Adviso... More
Easy Walker Fx EA Review – Profitable Night Scalper And Forex Expert Advisor
Easy Walker Fx EA is a very powerful Expert Advisor and night multi-pair scalping robot created by Argolab, which trades during the Asian session, when the market activity is minimal.
Easy Walker Fx EA opens a new chapter in the list of Argolab's products. Unlike their previous Forex Robots, this Expert Advisor does not use martingale in its trading strategy .
For years, we have been requested by users to provide "something without martingale but nevertheless profitable in real trading". Those of you who have some experience with scalpers and other non-martingale EA's know that it is easier said than done.
The market today is full with commercial scalpers, most of which proudly display history backtest balance curves with many 100s percents of profit, but which nevertheless are helpless when are facing a real trading surrounding.
How many scalpers do you know that earned – confirmed – profit over the last 3 months, in real-money trading? Too few, there are just too few of them.
As mentioned before Easy Walker Fx EA is a night scalper, which trades during the Asian session, when the market activity is minimal. The basic version of the Forex Expert Advisor trades three currency pairs, EURUSD, GBPUSD and EURGBP . The EA keeps one open order at a time and always assigns take-profit and stop-loss levels to open trades (but most trades are closed before that).
Easy Walker Fx EA uses a carefully optimized strategy for entering a trade, getting profits on ranging and gently trending markets. It uses renko filters to reduce stochastic market noise and to select the most optimal entry and exit points for its trades.
Easy Walker Fx EA has been thoroughly tested for several months on real accounts of different brokers. Below you can see several examples of our monitorings.
Easy Walker Fx EA – Frequently Asked Questions (FAQ)
What are the recommended brokers? Easy Walker Fx EA is a scalper and, as for many other scalper EAs, its trading results depend on the broker .

Because of this we can recommend only the brokers we have tested ourselves.

These are the brokers, for which we have official monitorings.

At this moment, official monitoring are held on AlpariECN, FxOpen STP, and Pepperstone Razor accounts .

If you use accounts of the same type on these brokers, you will be able to compare trade by trade with the official monitorings.

With other brokers, trades will be different.
What timeframe should it run on?

M15.

Actually, the results will not depend on timeframe.

But, since Easy Walker Fx EA uses mostly M15 timeframe for its entries, it is better to keep EA on this chart.
What currency pair does it trade? At the moment, Easy Walker Fx EA supports EURUSD, GBPUSD and EURGBP .
What is the recommended leverage? Leverage does not matter for this EA .
What the recommended money management?

Lot size of 0.01 per each 100$ of your deposit (Risk = 10).
How many accounts are included into license? One license of this EA is valid for one trading account.

The trading account can be changed at any time.

In order to change the account, you need to send an e-mail with the request.
Do they offer refund?

Yes.

If for any reason you are not satisfied with the Easy Walker Fx EA , they guarantee you full refund within 30 days from the payment date.
I read everything and I still have questions. What to do?

Post your question at the official thread at the forum http://forumargolab.net or ask technical support.
Easy Walker Fx EA – What can you expect from this Forex Expert Advisor
Positive average monthly returns
Dynamic stop loss and take profit
Short term trades to avoid bad trades due to news
Only proven real money account shown
Frequent trades involving EURUSD, GBPUSD and EURGBP
Excellent ratio involving gains versus loss
Easy Walker Fx EA has been created with the main aim of producing consistent average returns per month using safe and reliable techniques.
When you purchase this Forex expert advisor you are joining a group. You are joining a small select group of traders who have decided they are ready for change and ready to achieve huge success in Forex.
There are very bleak chances of failing with the Easy Walker Fx EA because the creators of this software guarantee a more than 90% success rate and will also provide verified results.
I have more confidence in this expert advisor than investing in the stock market, real estate, or even from the advice of some of the world's greatest investors.
Easy Walker Fx EA is instantly available at unbelievable price, ie only $199. So don't wait to grab your copy!
Follow us here: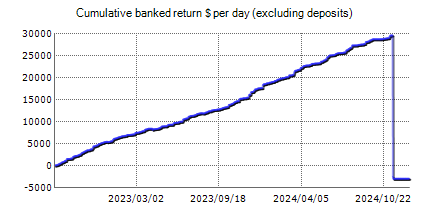 Price:

$285

Gain:

1561.2%

Monthly:

7.7%

Running Time:

1110 days

Start deposit:

2000

Balance:

33223.7

Drawdown:

67.1%
Visit Forex Robot Website
Price:

€299

Gain:

128.6%

Monthly:

4.7%

Running Time:

532 days

Start deposit:

17500

Balance:

21260.1

Drawdown:

21.7%
Visit Forex Robot Website
Price:

$739

Gain:

1143.9%

Monthly:

5.1%

Running Time:

1496 days

Start deposit:

3100

Balance:

37860.8

Drawdown:

66.8%
Visit Forex Robot Website