Forex Sugar Demo EA Review
$299
Timeframe:

M1

Broker (link):

XM
We suggest to open real live account with the broker above, because the shown results come from them.
Forex Sugar Demo
Recommended Forex Robot!
MyForexPath Review MyForexPath is a fully automated robot (EA) for trading on the Forex market. Forex expert advisor MyForexPa... More
Forex Sugar EA Review
This EA is completely user friendly. There is a combination of technical indicators with live news-events, being used in the EA. Forex Sugar robot receives trading signals from these Technical Indicators in order to open a position. Once a position opened then like other trading systems EA won't close the position at fixed TP/SL. This ea again calculates few indicators to decide when to close the position. So SL/TP are not fixed in this EA, these are completely dynamic.
This EA likes stable market, it doesn't like volatility. Markets are volatile during news events. So this EA gets news and pause itself for a certain period of time during Low Impact News, Medium Impact News & High Impact News release. EA can either be allowed or stopped to trade during any News release. This feature of EA is VERY IMPORTANT and enhances its trading skills.
So Forex Sugar EA
can trade excluding news release duration. You can set the duration in minutes, prior and post to a news event.
can trade 24 hours, no matter whether any news is released or not. Whenever any news will be released, EA will consider it and will adjust its trading scenario accordingly.
can be turned On/Off for particular weekday(s)
Forex Sugar EA trades on Real environment of News release. Trading volume, tick value, News/ data release, that influence the market movement can be wisely cashed by automated Forex Sugar EA very well.
Strategy used in this EA
Forex Sugar EA uses few Technical indicators and Price action movement. It reacts on Live News events. You can use fixed SL/TP in this EA, but we don't recommend small and fixed SL/TP for this EA. We have set big SL/TP by default in this EA. Every position closed according to indicators and News impact. So by using this technique:
you can hide SL/TP from your broker
you can grab more pips, because if price movement is in favorable direction then it keeps open that position for more profit
similarly if position opens and comes in loss after few minutes, and EA feels that this is wrong position, then it will close that position in little loss and won't wait for big loss.
Follow us here: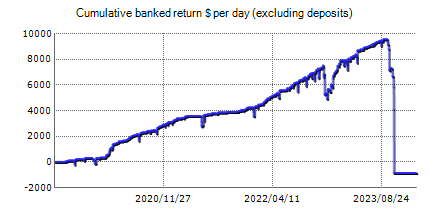 Price:

$295

Gain:

524.8%

Monthly:

4.6%

Running Time:

1190 days

Start deposit:

1000

Balance:

6248.25

Drawdown:

34%
Visit Forex Robot Website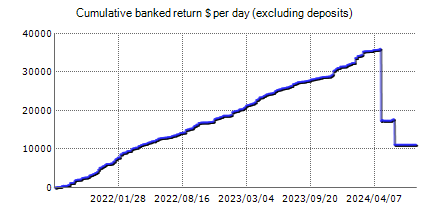 Price:

$289

Gain:

711.6%

Monthly:

13%

Running Time:

510 days

Start deposit:

2500

Balance:

20529.1

Drawdown:

44.6%
Visit Forex Robot Website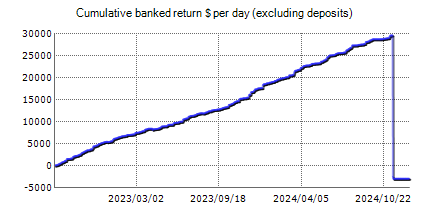 Price:

$285

Gain:

1561.2%

Monthly:

7.7%

Running Time:

1110 days

Start deposit:

2000

Balance:

33223.7

Drawdown:

67.1%
Visit Forex Robot Website