Ray Scalper EA Review
$450
Timeframe:

Broker (link):

No information
We suggest to open real live account with the broker above, because the shown results come from them.
Ray Scalper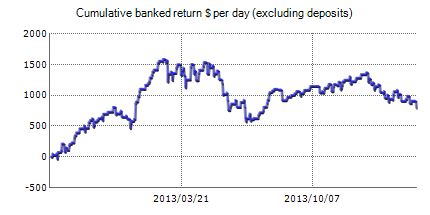 Recommended Forex Robot!
FXParabol Review FXParabol is a 100% automated Forex robot. The effectiveness of the system is confirmed by verified stati... More
Ray Scalper V3.0 Features
Trading Strategy Based On Concept of Ray Tracing
Price Action Analyzed on M15 and H1 timeframes
Strategy based on M15/H1 Trading Range Channnels & Fibonacci Levels
Multiple Time Frame Analysis
Recommended Currency Pair - EURUSD
Professional Trade and Money Management
Protective Server Side Target Price (~ 60 to 300 pips)
Protective Server Side StopLoss (~ 60 to 200 pips)
StopLoss placed above/below second level of support/resistance
Option to Trail StopLoss above/below first level of support/resistance
Intelligent Trailing StopLoss - excellent locking in of gains
Average Profit:Loss ratio 1:2
Trade success rate of 75% (over 7 year tickdata backtest)
Option to improve R/R ratio by enabling exit strategy (improves R/R to 3:4 for success rate 65%)
Opens only one trade position at a time - trades every signal.
No Martingale - No Pyramiding - No Pending Orders
NFA Compliant : No Hedging - Follows FIFO
Lifetime license - 2 Real and 2 Demo accounts
Broker independent - Minimal differences between different brokers accounts.
Lifetime support and free updates for ONE Year
Optional annual update renewal fee of US$ 35
Trades all accounts types - Micro, mini, and standard accounts
Works with 4 and 5 digits brokers
Operates on any MT4 broker - ECN, STP, NFA regulated broker
24x7 Email Support (response time less than 6 hours)
24x7 Email Technical Support (response time less than 12 hours)
Technical chat session available with prior appointment
Ray Scalper is the result of our research in the field of ray tracing and efforts to enable implementation of the concepts into Forex trading. this EA has been developed keeping in mind the requirement of short term gains of most traders. Ray Scalper provides good portfolio diversification since its trading strategy is completely different from any other EA currently available commercially.
Ray Scalper is based on the concept of ray tracing. Support/Resistances are calculated using Fibonacci levels, weekly classical pivots and other standard methods. These levels are considered as objects. The EA close of every 15 minute bar the EA shoots out rays in both long and short directions. The default target price (H1 ATR) is placed at distance about 6 hours. Rays which were able to reach the target without cutting across any support/resistance levels are considered for trading. The EA opens a long or short trade based on the best possible ray's direction. Stoploss is placed at 4x the H1 ATR. This allows the EA enough room to close trades which does not work immediately in its favor.
Follow us here:
Price:

$269

Gain:

220.3%

Monthly:

4.6%

Running Time:

1554 days

Start deposit:

1539

Balance:

2164.04

Drawdown:

54.6%
Visit Forex Robot Website
Price:

$739

Gain:

1215%

Monthly:

4.8%

Running Time:

1604 days

Start deposit:

3100

Balance:

39939.2

Drawdown:

66.8%
Visit Forex Robot Website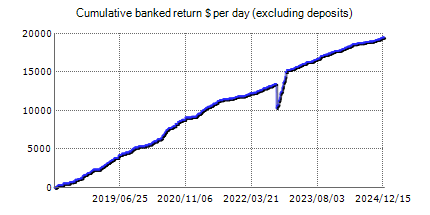 Price:

$270

Gain:

1581.3%

Monthly:

4.6%

Running Time:

1866 days

Start deposit:

1000

Balance:

16929

Drawdown:

50.3%
Visit Forex Robot Website