FXGoodWay USDCHF EA Review
$275
Timeframe:

Any

PDF download:

Broker (link):

FXOpen
We suggest to open real live account with the broker above, because the shown results come from them.
FXGoodWay USDCHF
Recommended Forex Robot!
FXStabilizer EA Review – Forex Expert Advisor Earns Stable Profits FXStabilizer EA is an innovative FX Expert Adviso... More
FXGoodWay USDCHF Review
FXGoodWay USDCHF is a Forex robot that automatically decides when to open or close positions on your account. The EA was designed in such a way so that it would bring the maximum profit with minimal risks. FXGoodWay USDCHF is compatible with any brokers that work on MetaTrader 4 and Metatrader 5 platforms.
Features:
Smooth profit
In this EA the developers use special algorithms for opening trades and, most importantly, for closing them afterwards. This allows to always close positions in total profit. Thanks to this you will have a constant profit every week, without protracted drawdowns and unprofitable trading months.
Multi-session logic
FXGoodWay has a unique algorithm that allows to simultaneously trade using several sessions (logics). The system analyzes the current state of the Market and based on the data received, decides which logic to apply and whether or not it should trade using other sessions at the same time. All this together allows to significantly increase a profitability of the EA, without increasing a drawdown.
Auto risk calculation
If you are not sure whether your risk calculations for the trading system are correct, or just do not want to bother with that, there is a completely automatic mode made specially for you. All that you will need is to specify which part of the deposit you are ready to use for trading. And that is all, the system will calculate the lots and limit the possible drawdown instead of you.
Good results on backtests and live
Successful Forex robots differ from the bad ones by the fact that they have profitable statistics on a live account (not on a demo) and most importantly for a sufficiently long period. FXGoodWay already trades for a long time and shows stable and reliable results. Also, the confidence in this system is complemented by the successful results of backtests for over 4 years.
Strategy
FXGoodway was originally developed for trading on EURUSD, but now there is also available a version for USDCHF pair. It is based on a Grid strategy. It trades only in the direction of the trend using certain patterns (sessions) of settings. Our EA has a unique system of recognition of the Market conditions. Every day FXGoodway decides which pattern to use in the current Market situation, and if there are no open orders of the same pattern, the EA opens a new session. Every pattern independently of each other opens a grid of orders when the price moves in the opposite direction. FXGoodWay USDCHF has 9 patterns that are built into it. Each basket of orders is being closed only by TP. Thanks to its strategy FXGoodway trades often and brings a good profit.
Requirements
The minimum deposit needed for trading with FXGoodway USDCHF is $800. The EA works properly with any types of accounts and all the brokers which use MT4/MT5.
Follow us here:
Price:

$269

Gain:

220.3%

Monthly:

4.6%

Running Time:

1811 days

Start deposit:

1539

Balance:

2164.04

Drawdown:

54.6%
Visit Forex Robot Website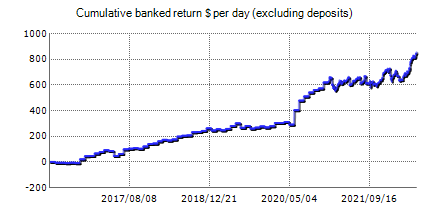 Price:

$269

Gain:

397.7%

Monthly:

2.1%

Running Time:

2795 days

Start deposit:

898

Balance:

1652.98

Drawdown:

23.7%
Visit Forex Robot Website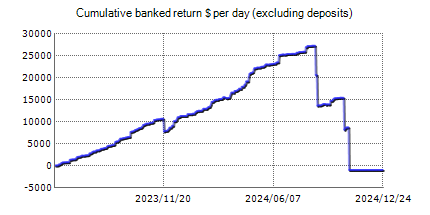 Price:

$539

Gain:

904.5%

Monthly:

37.5%

Running Time:

212 days

Start deposit:

1000.1

Balance:

10045

Drawdown:

48.8%
Visit Forex Robot Website