FXParabol
$289
Timeframe:

Any

PDF download:

Broker (link):

FXOpen
We suggest to open real live account with the broker above, because the shown results come from them.
FXParabol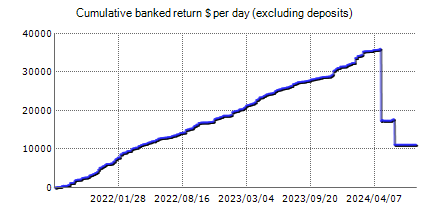 Recommended Forex Robot!
MyForexPath Review MyForexPath is a fully automated robot (EA) for trading on the Forex market. Forex expert advisor MyForexPa... More
FXParabol Review
FXParabol is a 100% automated Forex robot. The effectiveness of the system is confirmed by verified statistics on accounts with real money:

The development of FXParabol is based on a combination of the Parabolic SAR and Bollinger Bands indicators. The robot uses a combination of these indicators in such a way as to detect a trend and determine the moment when to start trading in the direction of this trend. There is also a special mathematical algorithm in the EA that allows it to compensate even for losing trades.
FXParabol robot works on two currency pairs: USDJPY, USDCHF and EURUSD. It has a special system that limits possible drawdowns, which you can easily configure in the settings. The robot is compatible with any broker and has no limitations on the types of accounts used.
Features:
Works on MT4 and MT5 platforms
Reliable drawdown control
Compatibility with any broker and account type

Over 12 months of live trading

Tests on historical data from 2015

Average win rate 70%
You get:
1 license
Detailed User Manual
Qualitative technical support 24/7
Free updates
By purchasing this robot, you will receive two versions of the program that works on MetaTrader 4 and MetaTrader 5 platforms. Also, you will be able to manage your license online in a Personal Area.
Follow us here:
Price:

$269

Gain:

220.3%

Monthly:

4.6%

Running Time:

1381 days

Start deposit:

1539

Balance:

2164.04

Drawdown:

54.6%
Visit Forex Robot Website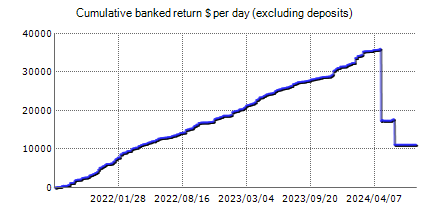 Price:

$289

Gain:

623.8%

Monthly:

14.4%

Running Time:

445 days

Start deposit:

2500

Balance:

18842

Drawdown:

44.6%
Visit Forex Robot Website
Price:

$739

Gain:

876.3%

Monthly:

4.8%

Running Time:

1431 days

Start deposit:

3100

Balance:

29673

Drawdown:

66.8%
Visit Forex Robot Website