FXSecret Immortal Demo EA Review
$549
Timeframe:

Any

PDF download:

Broker (link):

FXOpen
We suggest to open real live account with the broker above, because the shown results come from them.
FXSecret Immortal Demo
Recommended Forex Robot!
FXStabilizer EA Review – Forex Expert Advisor Earns Stable Profits FXStabilizer EA is an innovative FX Expert Adviso... More
FXSecret Review
FXSecret is a private community of successful traders that provides the best automated solutions for trading on Forex Market. The company was established in 2012, but the development of Forex robots the team started in 2009. A lot of experience in financial sphere has enabled the developers to create an entire portfolio of the best EAs. It allows us to smoothly diversify the risks and use the combination of trading systems, that is truly resilient to changes in the Market.
FXSecret Immortal – is a balanced and well-functioning combination of three different systems that are reliably and profitably combined on one account. It is possible to choose in the settings of the EA whether to use all three systems, or a certain number of them, if needed. The system will automatically calculate lot sizes and StopLosses based on the risks specified in the settings of the EA.
Features:
Combo of 3 different strategies
High profitability
Drawdown control
For trading with FXSecret Immortal combo system it is preferable to have a minimum deposit of $1400 for a reliable trading, or $700 for an aggressive trading.
You get:
1 license for any account
Possibility to change account online unlimited number of times
Settings for easy setup
Lifetime support 24/7
Follow us here: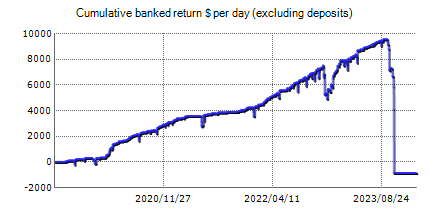 Price:

$295

Gain:

680.4%

Monthly:

5.5%

Running Time:

1127 days

Start deposit:

1000

Balance:

7826.26

Drawdown:

34%
Visit Forex Robot Website
Price:

€299

Gain:

124.4%

Monthly:

5.2%

Running Time:

469 days

Start deposit:

17500

Balance:

20870.5

Drawdown:

21.7%
Visit Forex Robot Website
Price:

$269

Gain:

220.3%

Monthly:

4.6%

Running Time:

1383 days

Start deposit:

1539

Balance:

2164.04

Drawdown:

54.6%
Visit Forex Robot Website